Entering a world of deepness and stillness with Katherine Wood's latest solo exhibition at Red Hill Gallery.
Internationally renowned artist Katherine Wood's latest solo exhibition, Dancing with the Wind explores the psyche of the mind. The events of the past two years have allowed the artist to reflect on stillness culminating in serene artworks that capture the feeling of calmness amidst the chaos.
In the artist's words, "this body of work reflects on the idea that although not everything in this life is in our control, if we are mindful and elevate ourselves out of the mind, that even in the turbulence we can find our centre."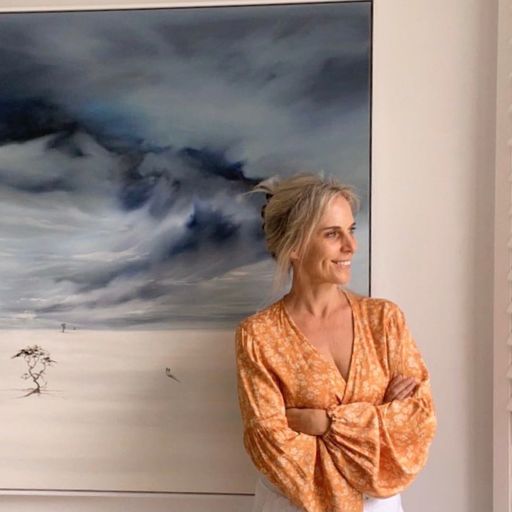 The trademark Wood landscapes that depict a tiny tree or a figure standing against the infinite landscape are a reminder to constantly look at our perspective and although we may feel insignificant, we are powerful beyond measure.
Influenced by the philosophy of Yoshida Kenko who writes, "blossoms are scattered by the wind and the wind cares nothing, but the blossoms of the hearts no wind can touch", the artist makes a statement to remember this is but a season and take this opportunity to dance with the wind.
The exhibition officially opened on Friday the 11th of March where patrons came to witness the serenity of Wood's artworks and hear Katherine and Director of Red Hill Gallery, Margaret Campbell-Ryder sit down for a Q and A session in the gallery. Touching on mental health, states of mind and the human experience in the universe, Katherine took the crowd on a spiritual journey through her paintings and shared her experience of creating the artworks.
Artist Katherine Wood with Red Hill Gallery Director Margaret Campbell-Ryder

Exhibition Opening
Dancing with the Wind will continue until the 28th of March.
To keep up-to-date with our gallery follow us onFacebook and Instagram and our website. Red Hill Gallery is located at 61 Musgrave Road, Red Hill, Brisbane QLD, and is one of the few galleries in Brisbane open seven days 10am – 4pm.