It Takes Two – Lisa Wang and Joseph Zbukvic

The Red Hill Gallery is thrilled to be facilitating artists and partners, Lisa Wang and Joseph Zbukvic for the month of July. "It Takes Two" is an exciting exhibition that brings together two artistic styles to cohesively celebrate the beauty of small moments, the natural and urban, and the collective. The result is a stunning celebration of life itself; when light filters through windows, when wind catches trees and disrupts the oceans tides, when the sun illuminates a dewy country morning.


Joseph Zbukvic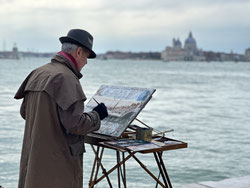 Zbukvic's artistic breadth reaches all corners of Europe, China, Australia and the USA. His poetic work effortlessly captures a landscape as if to recreate a vision or a dream. Such an affect is indicative of Joseph's preference for plein air painting, where he is immersed in the landscape while painting.
"Art brought us together, and ever since then we have been each other's inspiration and support. Being an artist is usually a very solitary activity and can be actually quite lonely at times. It is rare to find someone to share with. So this exhibition is a celebration of our creative partnership. While we are both very much individual artists, we feel that our work also compliments well. We hope you enjoy our paintings as much as we have enjoyed painting them. "
Lisa Wang
Wang's work expresses a particular aptitude for detail and a craftsmanship that can only originate from a truly gifted artist. Lisa has taken her art from China, New Zealand and now Australia. Her manipulation of mediums, oil and watercolour, allow her pieces to capture vibrancy and movement.
Despite the consequences of COVID restrictions in Queensland and Victoria, Red Hill Gallery is determined to organise an updated Exhibition Opening as we keep a close eye on government advice. Please stay updated via our instagram, facebook and website. We can't wait to see you in the Gallery!
Red Hill Gallery is located at 61 Musgrave Road, Red Hill, Brisbane QLD, and is one of the few Galleries in Brisbane open seven days 10am – 4pm.