'Intimate Conversations' presents an overview of husband-and-wife duo John Beeman and Rosemary Hain's artworks capturing detailed snapshots of domestic scenes. Both artists celebrate the intimate yet remarkable moments of everyday life executed in technical brilliance. The works command attention through their subtlety and highlight the invisible conversations between the painter and subject, and moreover, the viewer and the artwork.
An Artistic Affair
The artists have had a remarkably long career that is testament to their passion for the beauty and wonder of life, and for each other. Their story is a true artistic romance with the couple meeting at the East Sydney Technical College. Between various careers and raising a family, both artists have continued to perfect their talent in artistic pursuits.
John Beeman was born in 1926 in Sydney, and studied at the Julian Ashton Art School, Sydney and the Slade School of Art, London receiving disciplined training in drawing and painting. He later studied at the Courtauld Institute of Art where he honed his technical skills and acute understanding of materials. Beeman has been the recipient of various prize awards in his long career.
Rosemary Hain studied at the East Sydney Technical College where she won a scholarship to study an art diploma course. In her career she has expanded her skillset from drawing to painting. She has received many accolades and awards for her precise black and white drawings including working for Australian scientific organisations.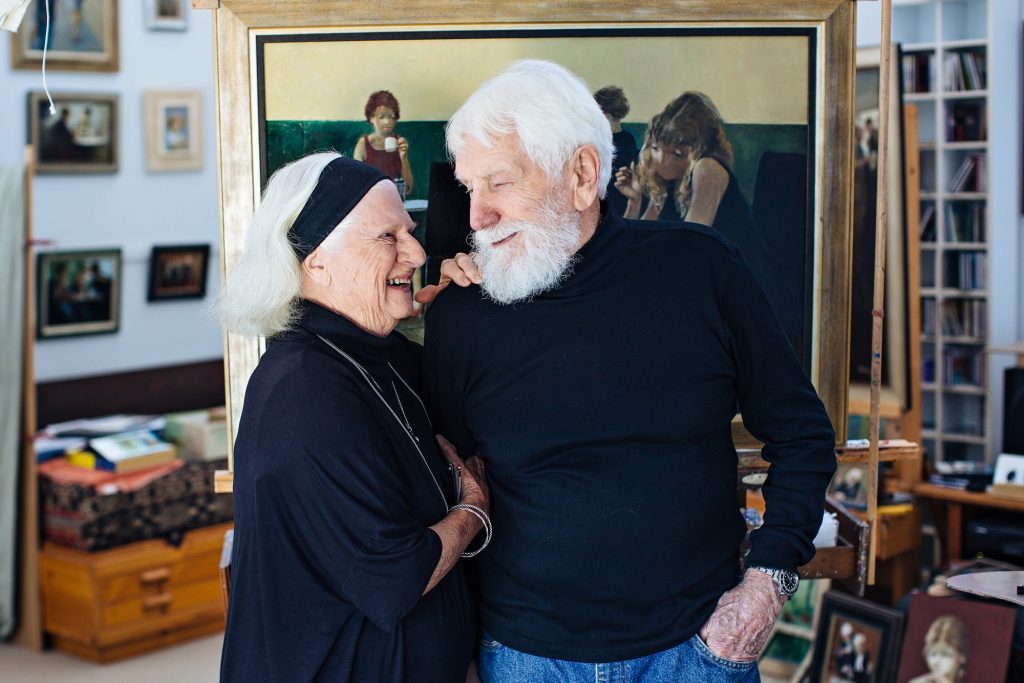 In their life-long pursuit of art, the couple have strengthened their love of ordinary subjects in magnificent form. Their skill in painting is matched closely to each other's work, however, they often differ in subject. Their difference in approach is noted with Hain's works highlighting a fluidity of  line and softer tones in comparison to Beeman's strong colours and intimate close-ups of the subject.

Beeman and Hain are known for their use of oil on gesso, a material pioneered in Italy and used extensively in the Renaissance. The use of gesso allows controlled, progressive applications of paint with the final result allowing for vibrancy of colours and clarity of subject.

"The white gesso has optical qualities which reflect the light back through the paint layers. It is rugged and stands a certain degree of aggressive technique or a sensitive response to a fine application of glazes".

– John Beeman on the qualities of gesso
John and Rosemary have exhibited at Red Hill Gallery in Brisbane since 1993 and are much loved and respected artists at Red Hill Gallery. We are delighted to present their work.
To keep up-to-date with our gallery follow us on Facebook and Instagram and our website. Red Hill Gallery is located at 61 Musgrave Road, Red Hill, Brisbane QLD, and is one of the few galleries in Brisbane open seven days 10am – 4pm.