ArtChat recently spent 5 minutes with Brisbane artist David Hinchliffe, to discuss his upcoming exhibition and recent trips overseas. His latest exhibition at Red Hill Gallery features the energy of New York City, the chaos of Havana, the romance of Paris, together with the architecture of London and iconic Brisbane landmarks.
AC: What's your philosophy about art? 
DH: Art doesn't change the world, my opinion however, it does change the way we see the world.  That's my job as an artist: to help people see the world.
AC: You have painted so many different parts of the world, do you have a favourite location to paint?
DH:  I keep finding new places to paint, in addition to my regular painting visits to New York, London, Paris, Sydney and Melbourne.  I've just come back from running a painting workshop in Bali and that was special.  But I have to say the more exotic destinations like Marrakech and Fez in Morocco and Havana in Cuba are still my favourites…along with Brisbane of course.
AC: We loved the photos of your recent trip to Bali, can we expect to see some of your Bali paintings in the near future?
DH:  Absolutely. I especially loved the Balinese people and culture, I'd never been to Bali before. I guess I was put off by so many Australians going there. But I was surprised to find most of the people hadn't been corrupted by the commercialism and tourism that has swamped a few parts of Bali. It was painting the people that I really enjoyed most, partly because my first love is figurative painting and partly because the people were so lovely and willing to be painted. (See pic of Balinese girl at Candidasa.) I'd be delighted to share those paintings in the months ahead.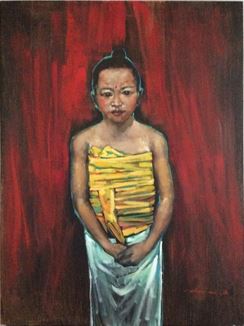 AC: It has been hinted that there is going to be a double David Hinchliffe exhibition in the future, can you tell us more? 
DH:  It all started a few years ago when there was some internet confusion about David Hinchliffe artist (Brisbane) and David Hinchliffe artist (Somerset UK). I got in touch with the U.K. David and he and his wife Patsy invited me to their home and studio in lovely Somerset.  That was about 4 years ago and the friendship has grown and each year we visit the Summer Exhibition at the Royal Academy. (See pic.) We even have very similar painting styles, although he has an OBE after his name!  I've invited him and Patsy to Brisbane and I'm hopeful that might result in a joint exhibition — "Two David Hinchliffe's are better than One" is the working title!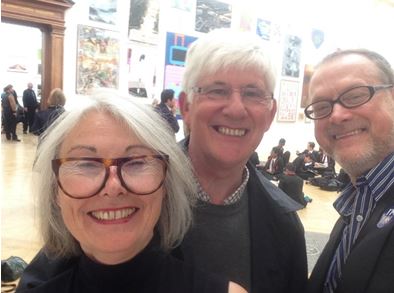 AC:  What do you like most about the Luxembourg Gardens?
DH: Luxembourg gardens in Paris has been attracting artists for 2 centuries, particularly the impressionists at the end of the 19th century. It's just down the road from the Pantheon and near the Sorbonne but its attraction is the relief it offers to the local built environment. I love the cafe in among the tightly planted rows of trees on the Pantheon side of the park where the local head waiter terrorises customers. I know him now and I know his gruff wiles and ways, so I enjoy observing how new patrons respond to his very Parisian style of 'waiting'. I've sat at that cafe many times painting the dramatic light and shade and the shapes of people moving in and out of those regimented rows of trees.
AC:  In your current exhibition you have a small number of paintings (for example Marrakesh) that are different from you usual style, can we expect to see more of this?
DH: My ambition as an artist is to try to capture the personality of the cities I visit. No two cities are alike. Parts of some cities might resemble parts of others, but I hope I am able to reflect their individuality in slightly different styles.
AC:  What style of art do you personally collect?
DH:  I don't collect a lot of paintings partly because I don't have room enough to hang them!  I do like representative painting – I like a painting to look like something. However I also love pure abstraction, paintings that don't have any specific elements. I find I enjoy a painting that holds my attention. It needs to represent something. My favourite paintings were painted by my father when he was just a young teenager. (See pic of David with his father's paintings, painted when his father was approx 15 years old)
AC:  What was the lightbulb moment that made you switch from politics to painting fulltime?
DH:  It wasn't so much a 'switch' as a 'reprioritising'. I've been painting continuously since I was a teenager including on my holidays when I was in politics. That's how I was able to have more than 60 exhibitions by the time I retired. I'd had enough of politics and the dumbing down that has been an increasing feature of political discussion. I'm now lucky enough to have had just over 4 joy filled years of uninterrupted full-time painting, undisturbed by the madness or mediocrity of politics.
AC:  Having travelled and exhibited all around the world, why do you call Brisbane home?
DH:  No matter what great times I have painting in extraordinary parts of this world, I have never returned to Brisbane wishing that that I'd stayed longer in the city or cities I've been visiting. I always return with a sense of gratitude that I belong to such a special place with such good sub-tropical weather, magnificent parks with Poinciana's and Jacarandas, its unique traditional Queenslander architecture,  and incomparable coffee!
David Hinchliffe's current collection of artwork is on exhibition at Red Hill Gallery, 61 Musgrave Road Red Hill, Brisbane until 21 August 2016. Make sure you visit the Gallery and its amazing team.