Artchat recently caught up with master ceramicist Bill Powell to find out some more information about himself and his beautiful pieces of art.
AC: Tell us something that would surprise us?
BP: This is the most difficult question and it's first. I am not sure what constitutes surprising but I can say that I am very much at home in water rather than on land. I cannot handle heights. That is surprising because I'm six foot six but I am in my element in the water. I was a competitive swimmer at State level as a junior. I learnt to Scuba Dive before I was fourteen. I have dived as deep as 120 feet at night and, when younger, was able to free dive to forty five feet. I've surfed all around the world but these days my water addiction is confined to lap pool swimming with the odd Ocean Race thrown in. My ultimate aim is to swim the Byron Bay, Ocean Classic. If I succeed in making the whole 2.2 kilometres one day, I assure you, that will surprise even me.
AC: Do you have a favorite artist/s or art movement/s?
BP: In the catalogue of Australian Ceramics three names always standout to me. Jeff Mincham for his bold and fresh pieces, Steven Bowers for his decorative surfaces and Ted Secombe for his glaze technology and his finesse of form. Internationally, the ceramica Negra [Black on Black] work of the Pueblo Indian artist Tammy Garcia of Santa Fe, New Mexico is very much a favourite. It is bold and sculptural in the style that is all Tammy Garcia yet refers back to the traditional work of Maria Martinez. When it comes to my favourite artist, then it's difficult to go past Antoni Gaudi. To stand inside the Sagrada Familia, Barcelona, is to pay witness to his boundless imagination. It is the influence of Gaudi and his organic natural designs that I keep coming back to. A true undervalued, prolific genius many years ahead of his time.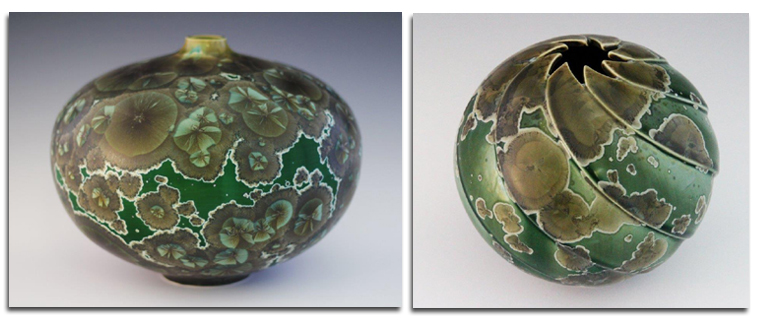 AC: Tell us a little more about your experience overseas in Spain and how it has influenced your work? 
BP: As a Ceramicist, Spain is a revelation. Pottery and Ceramics are fully integrated into the lives of the Spanish. Their traditions run deep. Everything from cooking pots to tiled murals to exciting, kinetic art kiln sculptural events set to music. One cannot experience the regions of Spain without developing a wondrous fascination for the place, it's people, their food and their pottery. Without a doubt the highlight was an evening of Flamenco. Dance, song, guitar and hand clapping all combine in a truly authentic and moving display that had me shedding a tear. This night of Flamenco in Seville was not the tourist type. This was exceptional and I shall never forget it.
AC: Can you remember your earliest motivation to pursue a career in the arts?
BP: There isn't a time in my life that I haven't drawn or painted or potted. My Art is my Life. I feel at home in my world of creative thought. I often refer to the Socratic quote "The unexamined life is not worth living". The life of an Artist is one of constant examination. My current motivations are the same ones I've always had. To create work that can contribute joy, pleasure and thoughtful examination to both myself and those that encounter it.
AC: What will it mean to you if you acquire a place in the Residency Program in Vallauris?
BP: To spend five weeks creating new work in the altogether new environment of Vallauris would be exceptional. Taking in the centuries old traditions of this Southern French region. Exploring the local potters studios, old and new. Including their most famous resident Picasso. In the forties and fifties Picasso single handily revitalised the Vallauris ceramic region with his striking and unique ceramic sculpture and decorating. A permanent Picasso Museum is situated within Vallauris. This would be a remarkable five weeks no doubt. Culminating in the shared experience of a group exhibition with fellow artists from around the world. I wait in grateful expectation of what may come.
AC: Could you please explain to our readers a little more about the crystalline ceramic Process?
BP: Crystalline glazes are my special fascination. They can be extremely frustrating and at the same time addictive. No two pieces form or "grow" crystals in the same way. Managing the multiple facets of their production is akin to juggling seven balls at once.
All my glazes are formulated individually from local and imported raw materials. High temperature gloss macro crystal formulas are, in simple terms, made from three main ingredients. Silica, the glass forming agent,  zinc oxide as the crystal seeding and growth agent and high alkaline frits, the fluxing component. The crystals are formed by the combination of the zinc and silica in just the right proportions at just the right temperature in just the right atmosphere. Adding a combination of a variety of metal oxides for colour, and the end result can be exquisite. All this happens inside the kiln at temperatures in excess of 1300 degrees Celsius. When the time is just right and the glaze is molten but not too fluid then the kiln is held in that temperature zone, the crystals fan out and grow randomly throughout the glaze matrix. This stage alone can take over 10 hours, with the complete glaze firing being up to 18 hours in total. As Potters what we are doing when it comes to creating beautiful crystal glazed pots is attempting to replicate what nature superbly does with extreme heat, pressure and an eon of time.  The crystal willemite is a naturally forming zinc/silica crystal.
Look closely at the centre of any one crystal within my glazes and you will see the central seed from which all crystals grow. A wonderous explosion of organic design 0020 that at times verges on the fractal.
Bill Powell will be featuring alongside two painters, Colin Passmore and Todd Whisson in the upcoming combined exhibition on 12 June 2015, at Red Hill Gallery, 61, Musgrave Road, Red Hill. To receive your personal invitation you can subscribe here.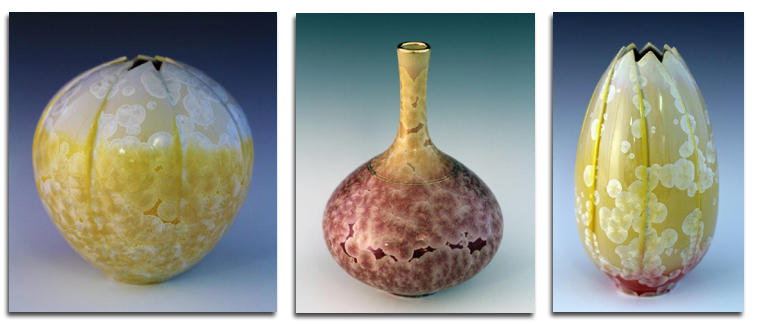 Post Note:  please find updated information regarding Barcelona from David Leigh.