One of the most exciting experiences one should have in life, is to visit a commercial art gallery and attending the opening of an art exhibition.
The exhibitions at Red Hill Gallery are always exciting with last Novembers opening being no exception, featuring the very popular female artist Starr.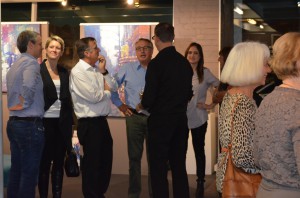 Below is a short video clip from the opening night.
We would particularly like to thank Sean Brennan –Innerving Film for producing this short video of the opening night.
A Video from Starr's solo exhibition – Opening night
"Most people do not realise without the galleries artists just do not get to have the huge success that I had with my exhibition WANDERLUST. By supporting my gallery this enables me to continually produce artworks for exhibitions and for art lovers", Starr.
Next on display, the Red Hill Gallery will be featuring a collection of new artworks by three prominent artists, one ceramicist Bill Powell and two painters Todd Whisson and Colin Passmore in a combined exhibition opening on 12 June 2015, at 61 Musgrave Road, Red Hill.
Become part of the Brisbane art scene and join our mailing list to receive you own personal invitation to our monthly exhibitions. Here.