Denise Murray is a sculptor who instinctively and imaginatively captures the joy of life, the nature of beauty and human emotion in her welded bronze and cold-cast bronze figures. Murray's most recent work features a range of figures from dancers to contemplative pieces based on humanity; emotions, relationships, and feelings.

AC:  Describe you art in one sentence?
DM:  My life. The way I talk to people.
AC:  What/who inspires you to create?
DM:  Artists I admire, my favourite being Egon Schiele and Alberto Giacometti. My artist inspiration also includes authors. The Chinese author Jung Chang was very descriptive. Another author who can paint an incredible picture with words was Mervyn Peake with the classic Titus Groan. I do also like to read biographies; it really can be anybody I'm curious about.  
AC:  What is your favourite childhood memory? 
DM:  My first day at Saturday art school in Melbourne at the Victorian College of the Arts, School of Art. , In those days the building was old , the smell of paint, echoing of the halls was very impressive to a nine year old. They had children's classes on the weekend.
AC:  What music do you listen to?
DM:  In the studio I listen to ABC Classic if I'm in the mood for that, or Alternative music such as Dead Can Dance, or Indian devotional music such as Karnataka College of Percussion, Lotus Signatures, or Krishna Das.
AC:  Share something about yourself that may surprise our readers?
DM:  I once jumped out of a plane over the Lockyer Valley on a beautiful day about 20 years ago. The visual memories of that day are still imprinted in my brain.
AC:  What do you do when you're not working on your art?
DM:  Sleep! Seriously I love the garden, and reading of course. I live on 2.5 acres and half of the property is still natural bushland. It is overgrown with weeds and its an ongoing project of ours to restore it. Regular trips to Greening Australia Nursery supply the plants which are native not only to Australia but native to our particular location. This is dry sclerophyll.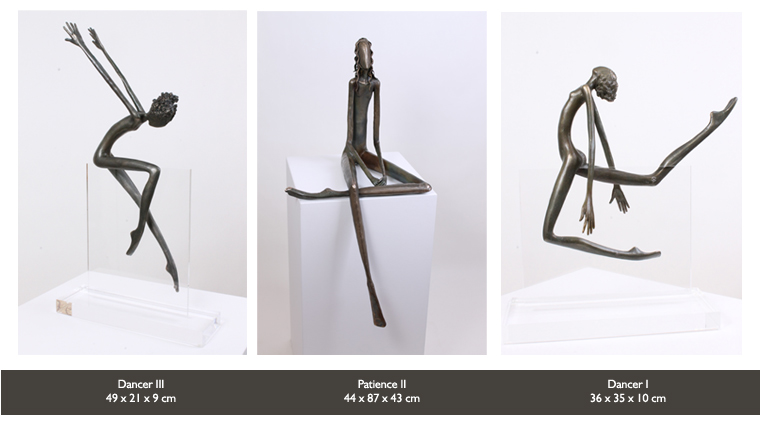 AC:  What motivates you to create?
DM:    The need to show people what I see and what I find beautiful or inspiring. The easiest way for me is to create a piece and then talk about that.
AC:  Do you have a particular process you use to get into the creative zone?
DM:  Turn up at the studio, try not to procrastinate too much, ignore the washing.
AC:  Tell us some of the things you need to consider when creating these works?
DM:  Is there a true emotional element to the work? Have I succeeded in showing that with my sculptures, do the figures "exist" for me ( in the process of creation at some point they "wake up" and exist separately from me.
Exhibiting June 2014 at Red Hill Gallery