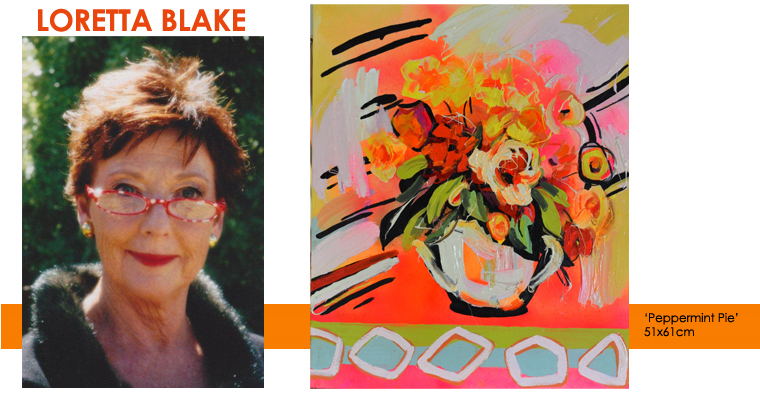 Despite her stronghold as an established landscape and still-life artist, Loretta Blake's new work exhibits her recent experimentation from neon, pop-style colour to a subdued pastel palette. She embraces stylistic diversity and draws inspiration from her magnificent garden and the Australian Outback. Blake's practice oscillates between abstraction and realism which allows this artist to contently seek change and new directions in her art.
AC:  How did your career as an artist begin?
LB:   In infant school, I licked my 'colouring in pencils' to make colours brighter. On a more serious note, Orange is a strong art area with an excellent Regional Gallery within easy driving distance to Sofala and Hill End where many of Australia's most noted artists have painted and lived. This aesthetic attracted many other art practitioners, one being the late David Wilson, my ex Julian Ashton art teacher.
AC:  You've been working as a professional artist for over 30 years now – how has your work evolved other that time?
LB:   My work has evolved from a totally traditional oil and water colour base to now include acrylics (synthetic polymer) and industrial acrylic. The introduction and progression in new art materials is responsible for great change of style that is now driven by a lifestyle much less formal. My art is more colourful and impressionistic.
AC:  Where do you draw inspiration from – is it true that it's often from your own garden?
LB:   I am an avid gardener which influences my painting of flowers. 'I must have flowers always, always.' Monet
As I sit now at my kitchen table I can count four flower arrangements. My other subjects are from travelling. I am currently on a chair painting journey. Artists mostly paint what they are familiar with.
AC:  What kinds of art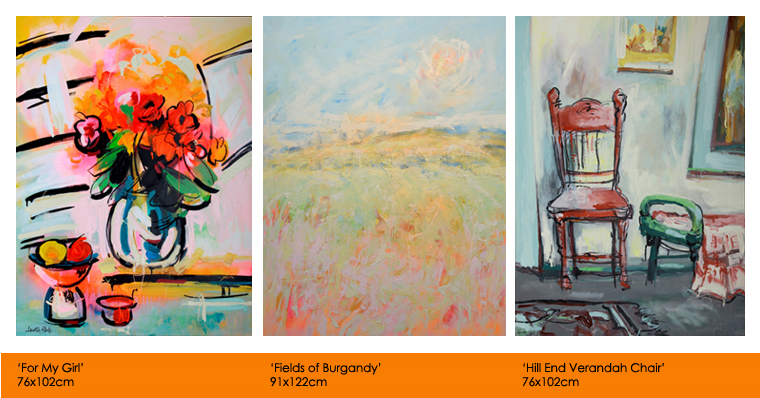 and aesthetics do you mostly identify with?
LB:   Art with soul, impressionistic, contemporary style; gardens of all persuasions and music.
AC:  You've exhibited in Australia as well as overseas – have you had any particularly memorable responses to your work?
LB:  Yes, a very humbling one – a gallery owner in regional Australia had a woman client say 'we are about to lose our farm and I have to come to town to buy a pair of sheets to cheer myself up." She left the gallery and several hours later returned and said 'I have to have that painting.' She bought one of my floral pieces. In telling, I am still overcome.
AC:  What helps you to get into the creative zone? Do you listen to music? If so, what kind?
LB:   Yes, I always listen to music, anything from classical to modern or country if necessary, depending on the energy level required.
AC:  What's your favourite part of painting?
LB:   All of it. The suffering, challenge and elation – sometimes all in one painting. The fact is you will never master it. There is always something to learn.
AC:  How would you describe your art in one sentence?
LB:   Energy giving, vibrant, personal expression statements that are essential to my lifestyle.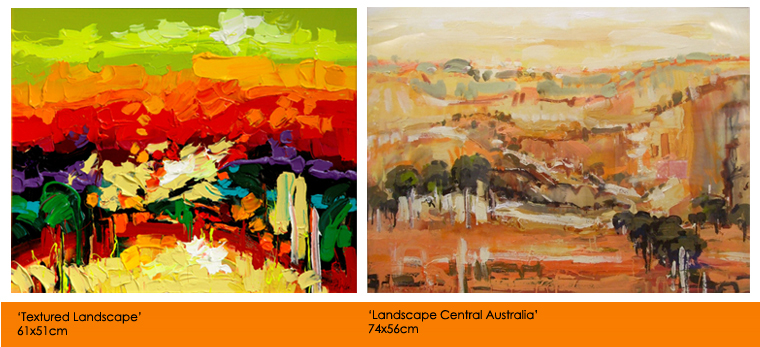 Exhibiting June 2014 at Red Hill Gallery