March is set to explode at Red Hill Gallery, Musgrave Road, Brisbane; with an astounding exhibition titled "By the Brush" that features artworks by Karen Atkins, Julie Hutchings and Emma Sheldrake. Opening on Friday 9 March 2018 this hot to trot posse of female artists have created a breathtaking collection of fantastical paintings that are sure to imprint on art lovers minds.
Karen ATKINS visionary series encapsulates the ideal of 'Lost Girls and Found Things'. This series started its life thinking about Alice, and how confronted by difficult situations and not always knowing where she was, she used her brawn and her charm to find her way through. As Alice falls down the proverbial rabbit hole she ends up in Australia and this birthed the "Alice in Gondwanaland" series.
Julie HUTCHINGS paintings are inspired by the human form, often conveying an emotional journey of adventure and imagination. Her work is born from a deep personal mindset which reflects not only on the past but on current situations. Built from layers of paint and descriptive marks, Hutchings work is expressive and impressionistic in approach, with a combination of poetic colour wash and sensitive drawing.
Emma SHELDRAKE harks back to old her inspirations in 'birds of a feather,' coupling vibrant species of birds with the seductive nature of the female face in a series of striking montages. These works represent a resurgence of her pop style featuring bold brush strokes, subtle drips and vivid imagery. Each painting emits its own quirky and retro vibe, pushing the artistic boundaries and giving insight into the happenings of Sheldrake's thoughts.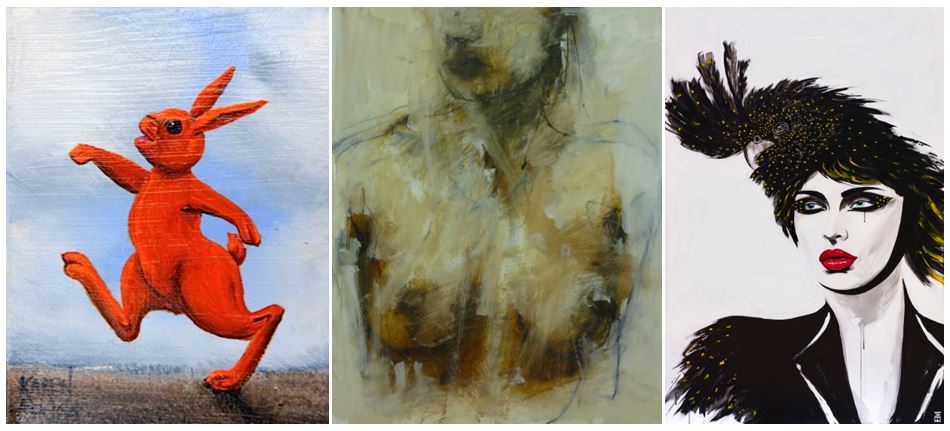 'By the Brush' incorporates artwork from three very different artists and brings together a kaleidoscope of colour, individual styles, and a passion for the artistic world each inhabit. "It is wonderful to see women with a strong sense of style that appeal to a broad and ever evolving art loving market." Margaret Campbell-Ryder, Gallery Director. Collectively the bold and adventurous use of colour completes this fantastical exhibition.
'By The Brush" will conclude on Sunday March 25 2018. If you're in Brisbane or happen to be visiting during the month of March, make sure you add this to you list of things to see.