"My paintings evolve from experiences and observations and explore, with romance and whimsy, the places our choices may take us."  My personal mythology draws from traditional myths and fables and is enmeshed with stories I have lived.  I am constantly amazed by possibilities, enormous skies and sumptuous colours and extraordinary relationships between people, animals, land and art and my aim is to convey my wonder in the everyday and the extraordinary in my paintings.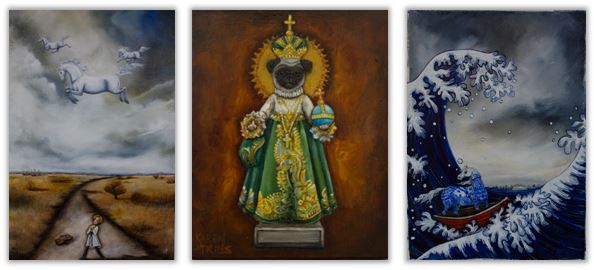 Karen Atkins joins Emma Sheldrake and Denise Murray in 'Mesmerised'. This trio of diverse, dynamic and talented artists will exhibit throughout December 2015 at Red Hill Gallery.
AC: Where do you get your ideas for your paintings from?
KA: Series of paintings emerge from different sources – a personal experience, literature, myths, songs; somehow they coalesce into an image or story that becomes my painting obsession.
AC: Is there another side to Karen Atkins, that we don't know?
KA: For many years I competed in equestrian events and am a fully accredited judge.
AC: As well as painting on canvas, you also paint on an array of objects. Where do you find these special pieces?
KA: I love treasure hunting and recycling – giving pieces new life by turning them into art is very satisfying. Garage sales, church fairs, op shops and council clean ups, as well as friends with magpie eyes keep me supplied.
AC: What inspires you to paint the details in your paintings?
KA: The details are the clues to the narratives and are symbolic as well as being pieces I own.
AC: What book are you ready at the moment?
KA: Vanessa and Her Sister by Priya Parmar. I have always been obsessed by the Bloomsbury group and Vanessa Bell's house "Charleston" influenced my painting on furniture and textiles. I had the privilege of meeting her granddaughter while on an Artist-in-Residence in the USA – very inspiring.

AC:   Did you paint as a child? If so, what were you painting then?
KA: I picked up a pencil as soon as I could grasp and started drawing horses on every surface and never stopped.  I sold my first painting at the age of 8 – a portrait of a horse.
Mesmerised featuring Karen Atkins, Denise Murray and Emma Sheldrake continues at Red Hill Gallery, 61 Musgrave Road, Red Hill until Sunday 2o December 2015.