Denise Murray is a sculptor who instinctively and imaginatively captures the joy of life, the nature of beauty and human emotion in her welded bronze and cold-cast bronze figures. Her latest body of work is entitled 'I Love the Dance'.
"Dancing is creating a sculpture that is visible only for a moment." Denise's pieces are a celebration of the joy of life. The complete honesty necessary to use the body alone to communicate emotion and ideas has always held a fascination for her. During her 30 year career as an artist she has only scratched the surface of the possibilities inherent in the human form. Denise Murray is one part of the talented Trio showcasing the Galleries December Exhibition 'Mesmerised' alongside Karen Atkins and Emma Sheldrake.
AC:  You've entitled this body of works "I Love the Dance", where did this originate from?
DM:  Simply that dancers make beautiful shapes.
AC:  What inspired you to become a sculptor?
DM:  I've always used whatever medium available to best help me communicate my latest theme. With body language that is three dimensional.
AC:  How have your sculptures evolved from when you first started creating?
DM:  Since I first started to use visual art to talk to people, the figure seemed to me the logical choice. As time went by I have moved into different materials but the subject matter has so far been the same. The next projects are always inspired by the previous ones.

AC:  What is your favourite movie and why?
DM:  I loved "Avatar" for the creativity in building that amazing world. It was visually spectacular. Also the long elegant inhabitants of course inspired me. I was a beautiful comment on living in harmony with the world you live in.
AC:  You create a lot of Dancers, was this something you aspired to be earlier in life?
DM:  I remember watching gymnasts and loving their strength and agility. I did classes for a while. I didn't get a chance to see much dancing until I was older. But it gets back to the body and how it moves and what it says.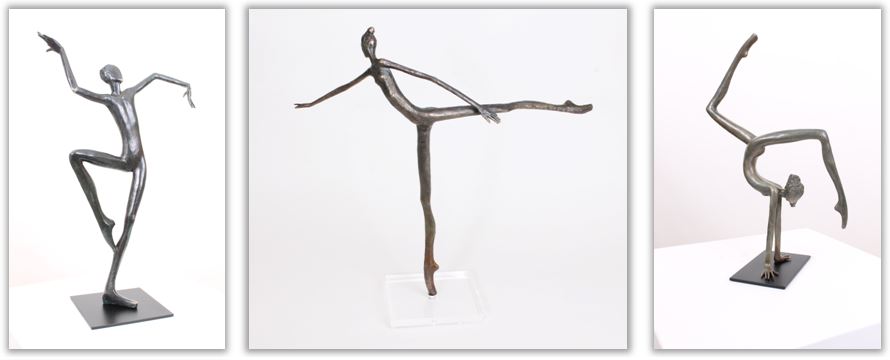 AC: Your process for creating a bronze piece is very involved and physical; can you explain a little bit more about this?
DM: Many people are curious about my processes as a sculptor which is why for this exhibition I decided to try and do a daily account of happenings in the studio.
First I do a sculpture in wax. Then a mould is taken of that 'model'. This takes a while. After the mould is finished I will pour a wax ready for the foundry. I work on this wax until I'm perfectly happy with how it looks, particularly in relation to the attitude of the figure. The wax is taken to the foundry and I will ask them to do the ceramic shell and pour the bronze. I will take this 'raw' bronze back to the studio and grind and weld and sand until the finish is perfect. Then the patina is done using chemicals and a hot wax finish. Once that is done it is mounted according to the look I want to achieve.
AC: You have two very singular pieces in this exhibition, "Puppy" and "Offering", what was the inspiration behind these sculptures?
DM:  "Puppy" came from a desire to do more welded sculptures which I had being doing in bronze sheet sourced from America. I wanted to see what I could do in brass sheet using the cut shapes as a mosaic like affect. I enjoyed the different look I was able to achieve and will be doing more. With "Offering" I wanted to build a figure using the technique I use for armature and extend this to describe the finished piece, emphasising the lines in space possible with this technique. It has a light airy feel which marries perfectly with my long tall figures. I can't wait to do more.
AC: What do you love to do that's not related to your art practice.
DM: We live on acreage with quite a lot of remnant bushland. My granddaughter is crazy about animals so she has been promised a "camping, nature walk" at Granny's house. A night-time possum search and "wild bush camping" when Granny "finishes her exhibition".
Mesmerised featuring Denise Murray, Karen Atkins and Emma Sheldrake continues at Red Hill Gallery, 61 Musgrave Road, Red Hill until Sunday 2o December 2015. Make sure you get the chance to see Denise's stunning 'I Love the Dance' collection.