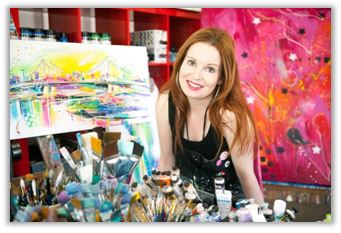 What is a Pop Up, you may ask? Pop Up retail is a trend of opening short term sales spaces.  The trend involves 'popping up' one day, then disappearing anywhere from one day to several weeks later. Pop up retail allows a company to create a unique environment that engages their customers and generates a feeling of relevance and interactivity.
As Lewis Carroll (Alice in Wonderland) once said "Imagination is the only weapon in the war against reality."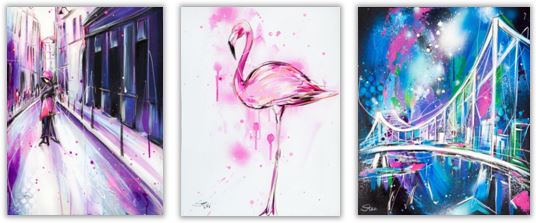 What does a Pop Up mean to Red Hill Gallery? Over three days the Gallery is hosting its first ever 'Pop Up' with one of our fabulous artist's Starr. This is a once in a lifetime opportunity, with the artist painting live for a portion of each day. Starr's signature style embodies an energy and excitement that brings her artwork to life, making her one of the Gallery's most popular artists.
Starr is Popping Up on Friday 30 October and disappearing Sunday 1 November. This three day event is sure to be exciting and fun filled. Starr is as bright, outrageously eccentric and incredibly as unpredictable as her artwork. Her professional career began at Red Hill Gallery in 2001 and her popularity as an artist continually saws to new heights. Her subject matter is both familiar and universal in appeal. The lush layered surfaces are worked with fast-saturated colour and her signature calligraphic line that traces time and energy.
"My life is my journey and I think you can't go in half assed you must live it and not to others standards." Starr
With successful exhibitions around Australia as well as in New York and Singapore, she is carving a niche for herself, with an instantly recognizable and thoroughly original style.
Her work explores the warmth and passion of life as an artist, responding to intense experiences of the abundant light in the Australian landscape and the sensuous potential of the human form.
Starr captures in paint what the camera seeks to fix in a moment of time. Her works secure what is elusive and mutable in our relationships to places and the people who inhabit them. Starr's paintings are intensely personal and are as much the work of a devotee of popular culture as they of the artist/observer.
"I think Fairytales are to girls what superheros are to boys." Starr
"Flamingos and mustard both bite. And the moral of that is – Birds of a feather flock together." (Lewis Carroll, Alice in Wonderland) Flock along to Red Hill Gallery and see why Brisbane loves Starr….. we hope to see you all here.