Artchat caught up with artist Dan Mason prior to his  exhibition 'All Afloat' to talk to him more about himself, his studio and last but not least his artwork.
AC: Where are you based and why?
DM: I work from my studio at our home on a hill near the Queensland and New South Wales border. There are trees all around that capture the sea breeze and I can see the ocean in the distance. This elemental interplay is the greatest inspiration for my work. As a lifetime surfer, I feel like I became an environmentalist by default – nurturing our natural world in a sustainable way is the only way forward for humanity and for our planet. Through my work I try to capture our worlds beauty and life-giving energy.
AC: When and how did you first fall in love with art?
DM: I won the school art prize in grade one, although it wasn't until after a year of a Psychology major at Griffith University, that I decided to switch Visual Arts, a faculty that embraced thinking outside of the box, instead of within it.

AC: What is your studio like?
DM: My studio is well organized so that I can pick up where I left off, when those creative impulses start firing, without scrounging around looking for a particular colour or brush.
AC: When do you feel your most creative?
DM: This depends, although I'll say that rather than force it out, I'm learning that it's ok to stop, go for a surf or a walk, and come back to it with fresh eyes. I can work for anywhere between 4 hours and 16 hours at a time if the connection is strong. Music has always been my drug of choice, and song lyrics often find there way into my artwork titles. Energy in the studio is like a rollercoaster ride, so the music can be Led Zeppelin, AC/DC, The Rolling Stones, Triple J radio or silence – sometimes silence is best.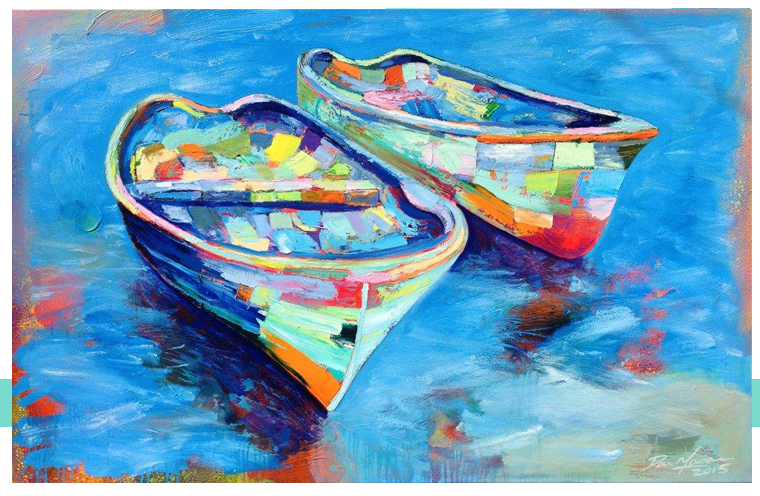 AC: How would you describe what you do to someone who hasn't seen your art?
DM: It's tough for me to describe my art. When people find out that I've been painting full-time for over twelve years, they usually say, "That sounds really cruisy", when in truth inventing something new each day is a super challenging endeavor, although when it works it's very rewarding. I've spent 50 000+ hours painting, playing and developing my oil and mixed media technical armory, and feel as though I'm at a point where I can call on all of this learning to create solid work. In a way, I'm only just beginning.
AC: What do you aim to achieve through your art?
DM: My work aims to celebrate our natural world and create a dialogue between us and it … then again, this is the whole point isn't it – we are the natural world, and by learning to respect it, we are respecting ourselves and our children's future.
Dan Mason will be exhibiting at Red Hill Gallery 61 Musgrave Road, Red Hill, Brisbane in the month of April, alongside two other prominent artists Warren Salter and Michael Parker in the exhibition 'All Afloat'.