"Art is a Universal Landscape. It is a thinking agent which reaches across and stirs the imagination. These paintings are a window for your imagination, not mine. I love that." – Dean Reilly

AC: Your exhibition title 'Says Who?' denotes a questioning mind, would you say this is true of you?
DR: I am afraid so, I tend to be a little defiant and contrary.
 AC: You are obviously inspired by the human form with its various facial expressions. When you are out and about do you visualise people the way you paint them eg. Men in suits with floral heads and is there some hidden meaning behind the crossed out facial features?
DR: No hidden meanings, however I always have been interested in physiognomy. Our beliefs and convictions shape our appearance.
 AC: Tell us a bit about your "Heads of State" Series.
DR: Images arise to create profiles. They are idealised. They are romanticised and they are charismatic. We are living in the cult of personality. This is the state we are in.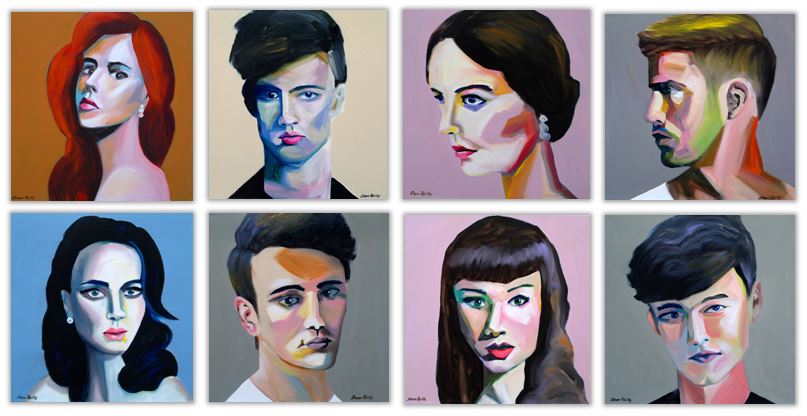 AC: If you were unable to paint is there another passion you would want to pursue?
DR: All the Arts, music, acting dance but maybe not ballet.
 AC: If you could collect another artist's work, who would it be?
DR: Michael Zavros. I believe he is Australians leading contemporary painter.
 AC: If you could ask Picasso or Dali a question, what would it be?
DR: "How you going, are you having a win?"

 AC: Is there a Movie you saw as a teenager that you still like today?
DR: Bruce Lee – "Enter the Dragon". My respect for him has grown as I matured, not so much for his acting ability but more for his philosophical views. The only problem is, bright candles burn fast, he was gone too soon.
 AC: You do the most beautiful floral paintings. Is there any particular flower that you like the most?
DR: No, it is like asking if I have a favourite colour. I do however have favourite combinations of colour and flowers.
 AC: Would you have any advice for up and coming young artists?
DR: "Have you thought about a career in Engineering?"
"says who?" by Dean Reilly continues at Red Hill Gallery, 61 Musgrave Road, Red Hill until Sunday 19 June 2016.