Recently ArtChat got the chance to catch up with Rosemary Hain, before her Exhibition 'Tranquillity' that opened on Friday 20 November at Red Hill Gallery. With a stunning collection of works, featuring alongside her husband John Beeman, Rosemary's works have a softness that entice the viewer to keep coming back for more.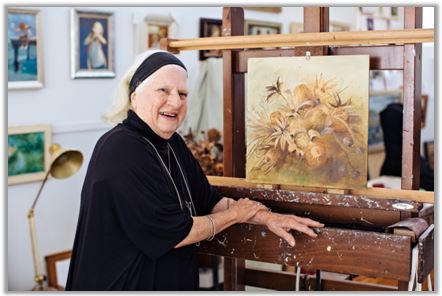 While at school, Rosemary Hain had two intense interests and had a conflict when reaching school leaving age whether to follow a career in ballet or art. This was resolved by winning a scholarshi0p to East Sydney Technical College, Sydney to study the Art Diploma Course. During this period at the Technical College, she met John Beeman and on his return from overseas study they were married and for a number of years, art took second place to raising a family. As the family grew up it allowed more time to continue her artistic abilities.
At that time, Rosemary was specializing in precise black and white drawing and her skill was recognized by various scientific organizations such as the Department of Fisheries N.S.W., the Australian Museum and the Australian Museum Society, where
she worked under contract for some years.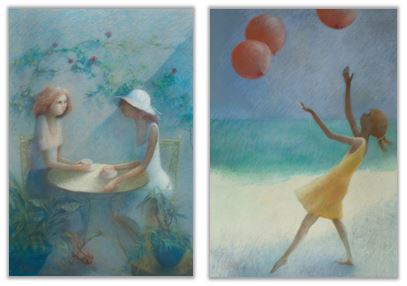 While maintaining her critical approach to drawing, Rosemary moved away from black and white scientific type work, the last one being a drawing of a tortoise which won the graphic section of the Taree Exhibition in 1981. Recognizing the limitations of ink, she expanded to a more diverse range of materials such a charcoal pencil, conte crayon and has become an exponent of the gesso technique.
While Rosemary and John use the same basic gesso technique, the difference in approach is very apparent in their individual results. Rosemary's first exhibition in Mosman in 1985 using this technique was acclaimed by its success. The Beemans now live in Yamba in NSW and have had a succession of sellout exhibitions in Brisbane.
AC:  You work with both oil on gesso and pastel, do you find working with one of these mediums more enjoyable?
RH:  I find both mediums challenging in different ways, but I do more painting in oil on gesso as it suits my work, but I do like the soft results from using pastels.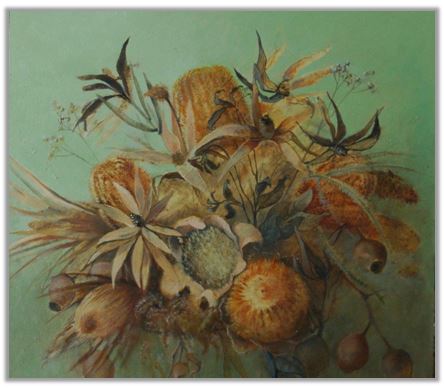 AC:  Is there a side to Rosemary Hain that we don't know?
RH:  Probably John and the rest of the family could answer this question better than I can. I think I am a reasonably uncomplicated person, but perhaps they would not agree.
AC:  As an artist, what was the best piece of advice you ever received?
RH:  Don't give up- keep going even when a painting or drawing doesn't seem to be working the way you want it to!
AC:  Obviously you've always enjoyed painting nature, as you do it so well. Was becoming a Mother and Grandmother something that influenced you to paint figuratively?
RH:  I've always enjoyed drawing the human figure. I spent many hours in the life drawing classes at East Sydney Technical College when I was studying art but I also love painting and studying the natural environment.
 AC: As a young artist, who influenced and inspired you to become the artist you are today?
RH:  My parents gave me an appreciation of art by taking me to Art Galleries and Ballet performances when I was young.   My art teacher in High School suggested that I should apply for a scholarship in art at East Sydney Technical College which to my surprise I won. John has been a huge influence on my art and has encouraged and supported my art career throughout our 63 years of marriage.
Tranquillity by Rosemary Hain continues at Red Hill Gallery, 61 Musgrave Road, Red Hill until Sunday 29 November 2015. Make sure you don't miss out on this stunning collection of work.