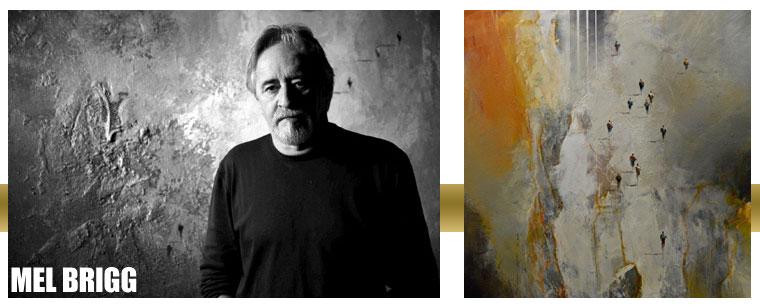 Art Chat recently sat down with Mel Brigg to talk about his upcoming exhibition and we had a chance to learn a little bit more about him. Since arriving in Australia from South Africa in the seventies he has built his practice and he was a finalist in the prestigious Doug Moran Art Prize in 2012. Mel's work is contemplative and evocative, often making a graphic comment on social injustice or the singularity of the human condition. The pure beauty of the surface texture and light is enough for his collectors to keep coming back for more. His inspiration often comes from the vast plains of Australia's interior, which gives the work a powerful sense of infinite space.
AC: Your work is heavily influenced by mood and atmosphere. Describe for us how this increases emotional content for you.
MB: Being a fairly emotional person, my mood will determine the colours and content…I recall some 40 years ago someone asking me what had happened, because my work looked happy and colourful……..I replied that I had got divorced !
AC: Please tell us how being self-taught has allowed you to develop your unique style.
MB: I think many students are influenced by their lecturers, I had to battle it out on my own, it was a matter of working 18 hours a day or starve!
AC: Charity work is very important to you, does this come from what you saw in South Africa and how does this influence your choice of subject matter?
MB: Naturally, some of my works such as the Exodus series are influenced by my African experience, but one has to keep in mind the charities function, and try to paint something that is relevant to that.
AC: Can you remember your earliest influence when you were growing up and what made you decide to use the visual arts to communicate so effectively?
MB: My father throwing my first work in the rubbish bin……….so I thought…… I'll bloody well show you!
AC: What do you consider your greatest achievement to date?
MB: Being accepted into Australia on a visa called "distinguished talent".
AC: If you could bring any artist from any era into the studio to spend a day with you, who would it be?
MB: Van Gogh…I love a good argument.
AC: What is your most treasured possession?
MB: A collection of drawings my children did when they were very young.

AC: If you had an unlimited budget what art would you collect and why?
MB: There would be no more budget, because I would buy everything I enjoy.
AC: What is your favourite quote or saying?
MB: SHIT! …….every 2 minutes in the studio!
AC: And finally when you are not in the studio what are you likely to be doing?……..
MB: Mowing the lawn, cooking, enjoying a good glass of red with friends.
"It could be called modern impressionism, but because I paint such a diverse range of subjects, still life and portraits, it's difficult to slot into any one category." Mel Brigg
"The exhibition 'Passages' is hauntingly beautiful and as with all paintings by Mel Brigg, many carry an underlying message giving the viewer an insight into Brigg's journey through  life and what he has seen along that road, all captured on canvas." Margaret Campbell-Ryder, Director Red Hill Gallery
For an up close view of Mel Brigg's new work, come visit his solo exhibition at Red Hill Gallery 61 Musgrave Road, Red Hill Brisbane in the month of March.