Bill Powell is widely regarded as a master of the potter's wheel. This Victorian-born, Queensland-based ceramicist will be exhibiting at Red Hill Gallery in Brisbane alongside painter Ken Strong in August 2013. With colour, form and texture at the centre of his creative ethos Bill's individual, hand-made pieces continue to impress us all.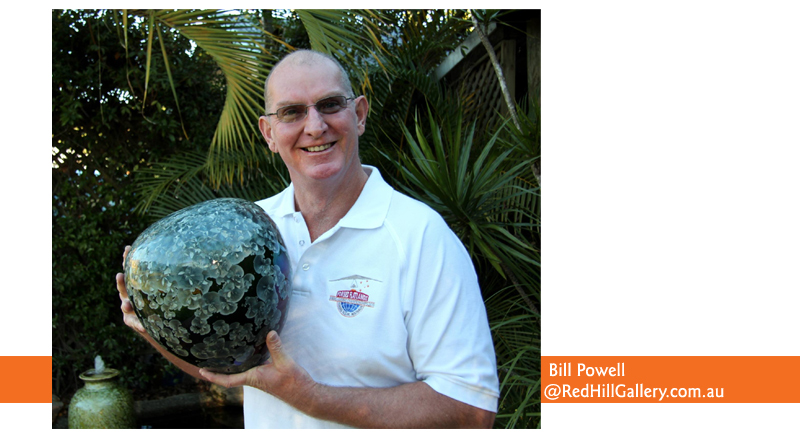 AC: Bill your ceramics are innately beautiful. Could you describe the process involved when creating a piece?
BP: Most of my work is vessel based, that is to say that the shapes are drawn from functional forms from across many traditions and cultures. I perceive each piece as a whole and will often clarify the appropriate dimensions with a quick pencil sketch. Once I start the wheel throwing I allow the clay to guide the final outcome. In this way a natural evolution develops upon a theme and the work remains fresh and alive.
AC: Your ceramic glazes are just gorgeous and your technique creates unique, expressive and spontaneous pieces, how did you develop/first discover this form of patination and embrace it as your own?
BP: My infatuation with crystal glazes goes right back to my formative years at university in the late 70's. Although fully intending to become a painter I found myself spending more and more time in the ceramics studio. Once I discovered crystal glazes and the book "Glazes For Special Effects" by Herbert Sanders, I knew Ceramics was my passion. Since those early days of discovery I have pursued many facets of pottery including functional ware production and commercial glass manufacture but I have always returned to my first inspiration, crystal glazes.
AC: Where do you draw your inspiration from?
BP: I tend to draw on historical examples of ceramic art and design. The ancient Greek and Roman examples are informative along with the extensive Asian back catalogue of shapes. My recent exposure to the art and design of the Spanish architect Antoni Gaudi has sowed a seed of inspiration within me that I find is growing with each piece and theme that I explore. I find myself in awe of his outstanding achievements especially the Sagrada Familia and Casa Battlo. My pieces have begun an exciting transformation that is both organic and fresh. I greatly look forward to where it will take my work.
AC: When you aren't working on your art what are you doing?
BP: I live on the Gold Coast, having moved there from Melbourne in 1971, so I find my spare time has involved the ocean in one form or another. I've enjoyed scuba diving and have been an avid surfer of many years. I've explored the waves of Mexico, California, Bali, the Maldives and an adventurous trip to the outer islands of New Guinea in 2008. These days I enjoy the meditation that is fishing and I swim laps regularly.
AC: At what point in your life did you decide being a ceramist was for you?
BP: I completed my three year Fine Arts diploma in 1979 and continued my education by enrolling in the Architecture Degree course at QUT. It wasn't long after that that a production pottery job became available in my home town of Nerang. I deliberated for a while [about 30 seconds] and decided to can the Architecture Degree and follow my passion. My parents were livid but I was excited. I knew this was for me and I have never regretted it since.
AC: What has been a major accomplishment in your career so far?
BP: Receiving awards for my work is always encouraging, but I recently received the support of Arts Queensland this year with a career development grant to assist me in attending "Cristalls 2013", the World Conference of Crystal Glazes in Spain. It was a gathering of 53 of the best crystal glaze potters from 15 different countries. We explored all new glaze techniques and fascinating demonstrations and I was proud to be the only Australian representative. I thoroughly enjoyed the experience and was deeply satisfied to see a piece of mine feature in the Cristalls 2013 article written by Antonio Vivas in his national Spanish magazine "Revista Ceramica".
AC: Finally, what music do you like to listen to while creating?
BP: I have been learning to play acoustic guitar and am six years into what is a very difficult but rewarding practice, so I naturally gravitate to the simple yet seductive tunes of Paul Kelly. My music taste is highly eclectic. Depending on mood I can enjoy everything from loud Led Zeppelin to subtle symphonic numbers. But while I am working I actually find Radio National very stimulating: Music for the mind.