Imagine England! "Field and coppice, green and shaded lanes, ordered woods and gardens, dim blue distance, brown streams …" It is the England of my childhood but … "the beauty and the terror of the vast brown land…" has become as much a part of me over the past forty years as the rural England of my childhood. Like so many other immigrants it was a shock.
For my first couple of years in the "Sunburnt Country" I couldn't cope with the colours, my painting was all wrong! I thought some tall noxious weeds were beautiful shrubs; an early work featured a stretch of groundsel!
I was used to the soft blankets of bluebells on the woodland floor near Morpeth in Northumberland, daffodils and snowdrops poking through the viridian grass and snow patched carpets which herald spring.
We arrived in Australia on March 5 to a very humid thirty-three degrees, having left two days earlier where it was minus three! Emerging from Brisbane Airport was literally a baptism of fire, squinting eyes in the early morning light and struggling with swollen feet and clothes too hot. With the sun bouncing off red dirt blinding me as I walked to a bus stop, not having a car. Heat, sweat, mozzies, plus Pea-beu and Rid for survival mis-pronouncing place names and asking a bus driver to drop me off at Woolloongabba (Wooolloooongaabba, my pronunciation), strange name indeed I thought. Even the first trip to the Gold Coast left me with severe burns and I've still got the scars. The only thing that kept me from heading back to freezing cold England was the Pea-beu and Rid and, oh yes, a lack of cash!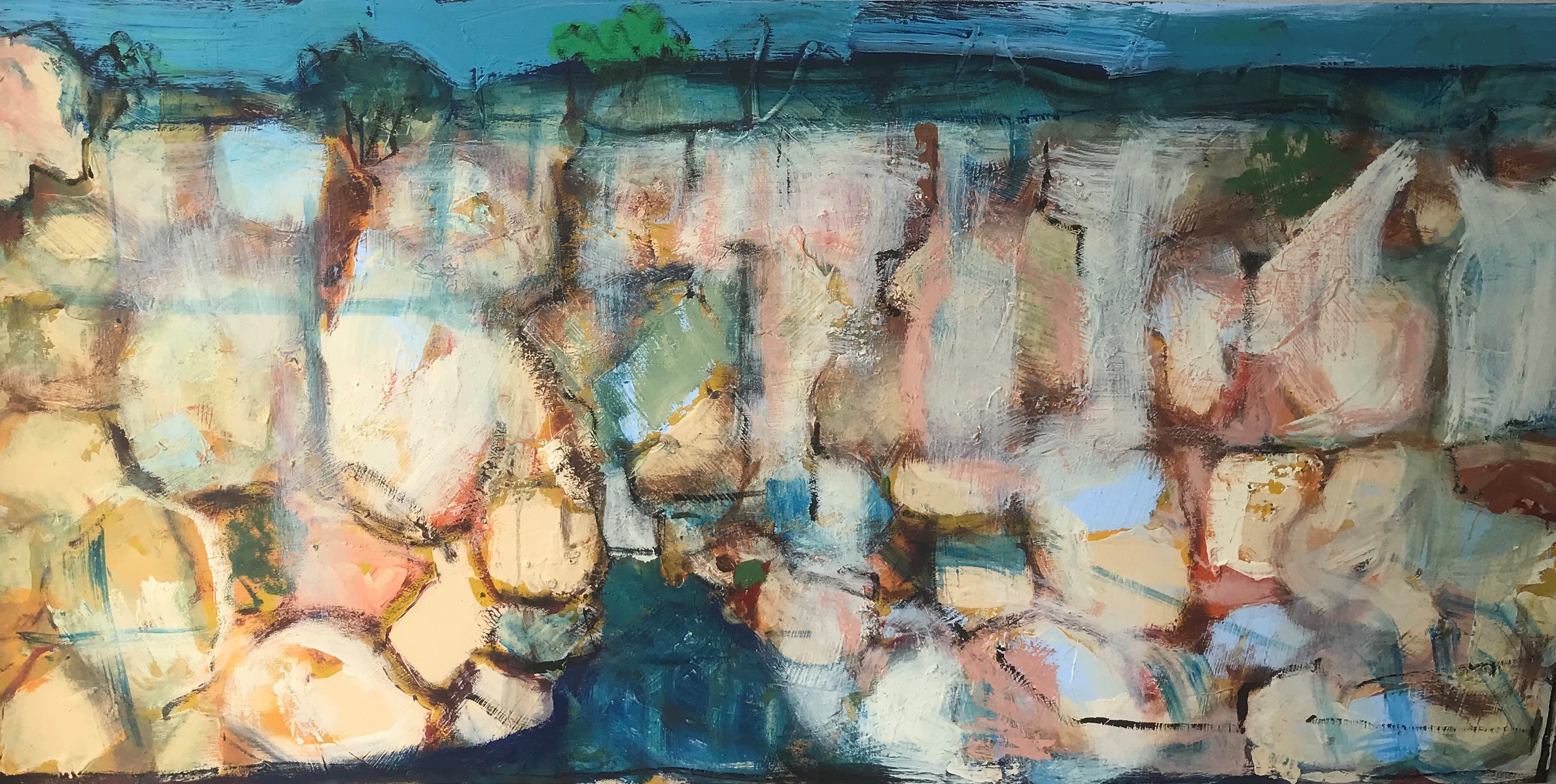 I eventually stopped trying to escape the wide brown land and took to reading a few books to try and understand. My steep learning curve, it was fascinating. Emerging from Robert Hughes 'Fatal Shore' and Xavier Herbert's 'Poor Fellow My Country'; to visiting the work of John Glover, McCubbin, Roberts and Streeton at AGNSW, which turned the key in the lock of my consciousness….and there it all was. My encounter with these books about Australia and its landscapes and the stories have been endlessly fascinating.
The first major work I did (after coming to grips with the colours) I called 'Prindy'. 'Prindy' of course was one of the main characters of "Poor Fellow My Country". Although the character was an adult, I imagined him as a beautiful young man/boy in the vastness of North Queensland. It was to be the first work I ever sold here, and the novel inspired many more.
Life is circular… When my sister-in-law was persuaded to leave Canada and come to Australia she worked as a nurse on Wickham Terrace, Brisbane. A colleague invited her for dinner at his place and lo and behold… there was 'Prindy' on his wall!!!! With three other John Maitland paintings. She married him!
And wait there's more! It has come to pass that we can now also say that two of our good friends have had a close friendship with Xavier Herbert and the painter of another picture from far North Queensland which features the actual 'Prindy' himself!!!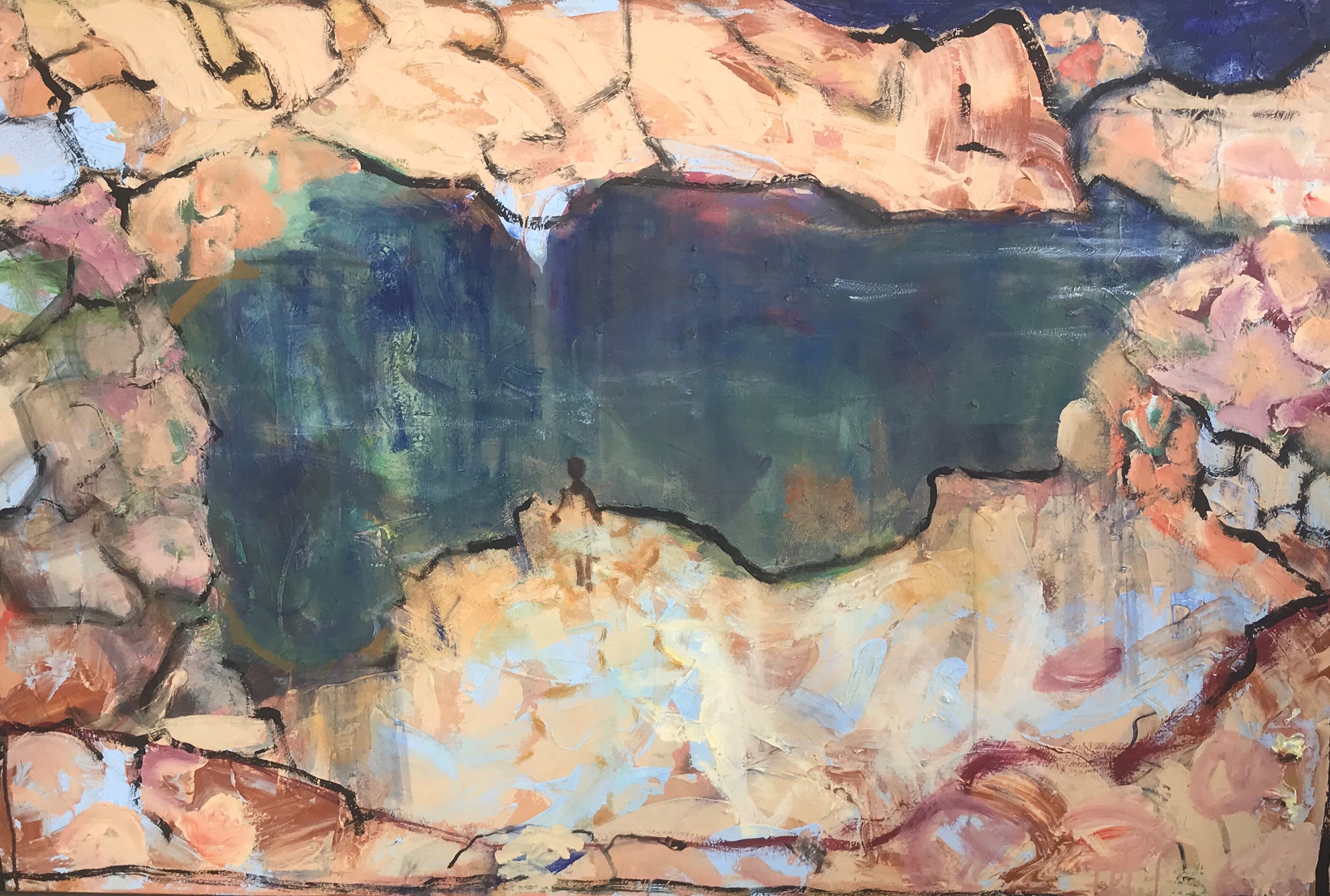 The Vastness
This is no common bush poem or folksy poetry, not for me, it smacks of the grandeur of "sweeping plains" and "beauty and terror" of this vast island continent. Just writing those words send a shiver down my spine!
Those who know my work will know I've travelled extensively through Australia, and I see it as a pastiche of the beauty and grandeur I've seen. So, for my part in this exhibition there is sand, rocks, cliffs, desert, and the water which is so vitally important in the struggle for survival on this vast continent…… And, of course, the people are there too, then there's the "Jewelled sea" as Mackellar puts it, opalescent and magnificent.
Never did I imagine what it would become for me.
All of these elements I brought into painting my SUNBURNT COUNTRY.