Leah Anketell's paintings originate with childhood visions; the Australian outback culture is a strong influence with the bovine often featured. Recently chosen as the winner of the People's Choice award at the 2014 Byron Arts Classic, Leah's new series of paintings also features dogs and their relationship to nature.

AC:   What inspires you?
LA:     As a product of my environment, I reflect on local surroundings and aim to capture a quirky side of nature that moves me and my audience to view creation in a different light. Whatever impacts on my life, also impacts my work. Economy, society, religion and family are some of these.
I observe and study each of my subjects at length. My aim is to find in each subject a certain side of their personality which is not always obvious in a life setting and of which I personally relate to.
AC:   Describe your art in a sentence.
LA:     The emotions my animals convey ties humans to them, and obliterates our differences.
By regularly contemplating the 'ache of modernism' my subjects are sometimes strong. Sometimes perplexed. Sometimes soulful. But usually uncomfortably human in their emotions.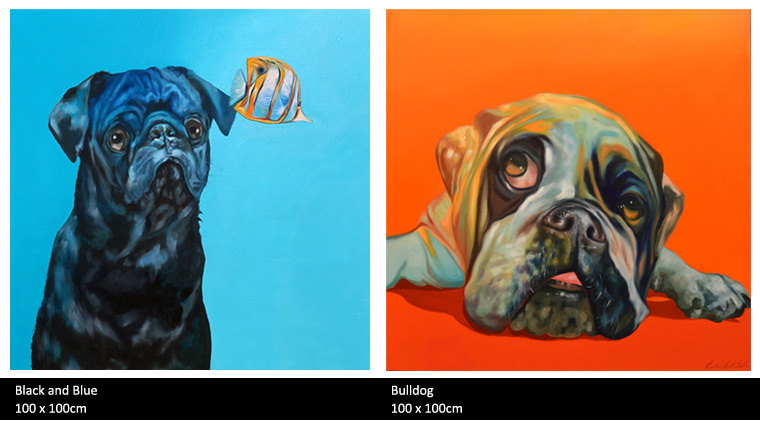 AC:   What can't you live without?
LA:    Time and again, I have proven to myself that I cannot live without painting. It is my means of communication and my way of showing appreciation for creation itself.
AC:   Do you remember your first painting as a child?
LA:    I still have my very first oil painting, which I completed at the age of 8. It is a still life painting of my mothers clay pot full of flowers. The background is bright purple and the flowers are all different varieties and very bright. I remember working on this painting with the help of my grandfather for weeks.
AC:   What music do you listen to whilst you're working?
LA:    I do not usually listen to music whilst painting. I find that it has too much impact on my work, and sometimes changes the direction. I need to make sure that my work is only influenced by myself and the subject at hand.
AC:  Apart from art what is the next most creative thing you do?
LA:   Cooking. I find a lot of joy in creating different recipes and baking.
AC:   Your work is dominated by large colour fields, how does colour affect you?
LA:  Colour is the key most important factor in my paintings, different colours symbolise different emotions to me.  Example: Some Blue's I use symbolise calmness and peace, and other blue's the exact opposite.
AC:    What do you like doing when you're not painting?
LA:    When I'm not painting, I'm drawing, when I'm not drawing, I'm contemplating a concept of another piece. Most of my life is spent creating at different stages.
Then I'll take a long walk along an isolated beach near where I live and accumulate all my thoughts together, and start all over again!
Occasionally I travel inland to an artists retreat where I gain inspiration from my contemporaries.
AC:   Share something about yourself which would surprise our readers.
LA:  I am an avid reader of the Bible and feel it is the greatest book ever written.
Leah Anketell will be showing with three other talented female artists in a group exhibition "Women of Substance" at Red Hill Gallery, Brisbane from February 14 until Sunday March 3, 2014.